It is our pleasure and privilege to present you with the first Arse Elektronika Anthology:
"pr0nnovation?"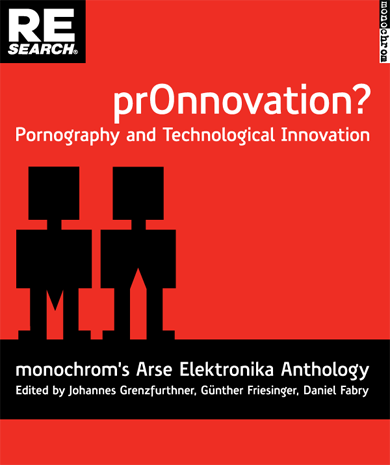 From the depiction of a vulva in a cave painting to the newest internet porno, technology and sexuality have always been closely linked. No one can predict what the future will bring, but history indicates that sex will continue to play an essential role in technological development. Is it going too far to assume that research in nanotechnology and genetic engineering will be influenced by our sexual needs? The question is not whether these technologies alter humanity, but how they do so.
Edited by
Johannes Grenzfurthner
,
Günther Friesinger
,
Daniel Fabry
.
Published by
RE/Search Publications
(San Francisco) in cooperation with
monochrom
.
Featuring:
Michael Achenbach, Timothy Archibald, Peter Asaro, Thomas Ballhausen, Binx, Violet Blue, Jonathan Coopersmith, Mark Dery, Thomas Edlinger, Johannes Grenzfurthner, Ema Konstantinova, Tina Lorenz, Stefan Lutschinger, Kyle Machulis, Aaron Muszalski, Annalee Newitz, Carol Queen, Thomas Roche, Autumn Tyr-Salvia, Frank Apunkt Schneider, Katie Vann, Rose White, Amanda Williams, Katherina Zakravsky
.
Presentation at
Arse Elektronika
opening night at CELLspace (2050 Bryant Street, San Francisco); September 25, 2008; 8pm, doors open at 7pm.