monochrom appearance //
monochrom @ transmediale 2006 / Berlin:monochrom // a gala
February 4
8:30PM - 10PM
Akademie der Künste, Berlin.
From the press release: "monochrom is an unpeculiar mixture of proto-aesthetic fringe work, pop attitude, subcultural science and political activism. monochrom's mission, its passion and quasi-ontological vocation, is primarily the collection, grouping, registration and querying (liberation?) of the scar tissues represented by everyday cultural artifacts. This mission is conducted everywhere, but first and foremost in culture-archeological digs into the seats (and pockets) of ideology and entertainment. monochrom's transmediale medley is a tour-de-farce diversion intended to hold the attention of the transmediale audience. A joyful bucket full of good clean fanaticism, crisis, language, culture, self-content, identity, utopia, mania and despair, condensed into the well known cultural technique of a gala show. Powernapping highly welcome."
Link / transmediale project entry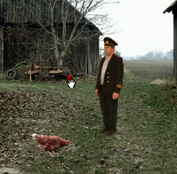 monochrom // the market
We're selling stuff. And we present our computer game 'Soviet Unterzögersdorf'. For years we have been occupied with the construction, analysis and reflexion of alternative worlds and models of recording history. Our projects are treating this field partly as a discussion with concepts deriving from popular culture, science and philosophy, partly as a direct reference to science fiction and fantasy fan culture. Our project «Soviet-Unterzögersdorf - The Adventure Game» is the implementation of a «false reminiscence» into the Austrian cultural memory -- a fictitious country taking the shape of a computer game adventure. The enclave «Soviet-Unterzögersdorf», created by monochrom, is the last remaining USSR republic, situated in the Austrian wine growing area.
Link / Game
Link / transmediale market entry