Crazy! "Pot Tin God" full win!
---
Dorkbot Vienna #7: Walter Langelaar
---
Lip-reading software picks out your language
---
Vicken Cheterian on the Georgian conflict
---
Glass harp version of "There's No Limit"
---
The Lord Is Love. And...
---
Could Food Shortages Bring Down Civilization?
---
Avatars, attorneys in new world of virtual law
---
The Frock-Coated Communist: The Revolutionary Life of Friedrich Engels
---
"Nazi Petting Zoo" on "The Art of the Prank"
---
Calling for a Coal Moratorium: Interview with Ted Nace
---
Burger Grease Art
---
In Defense of Common English
---
Monsters vs. Aliens: Why Terrorists and Pirates Are Not About to Team Up Any Time Soon
---
The Challenge of Moral Machines
---
ATM For Books?
---
Curry and identity: Does food act like a historical text?
---
Freedom from lice may have led to modern allergies
---
Cassini Probe: Breathtaking pictures of Saturn
---
Arse Elektronika Anthology: We are looking for illustrations
---
Guerrilla Comm? Waging War on Reality
---
Soldiers as street fighters: France's urban war games
---
Images of a Lost World: East Germany
---
Longing for Great Lost Works: From Shakespeare's 'Cardenio' to Ovid's Getic poetry, missing texts hold tantalizing possibilities
---
Same fight, different decade: Dave Dempsey about Copyfighting #fullboycott
---
Disney, Casino Capitalism and the Exploitation of Young Boys
---
The Hawthorne Effect: Why parents swear by ineffective treatments for autism
---
Typeface Inspired by Comic Books Has Become a Font of Ill Will
---
#fullboycott / help the Pirate Bay
---
The unfortunate uselessness of most 'state of the art' academic monetary economics
---
Humans are distance runners, just check out your toes
---
monochrom's Soviet Unterzoegersdorf @ Let's Restart!!!
---
Dorkbot Vienna #6: Mamoru Okuno
---
monochrom: Hope
---
How Science Fiction Found Religion
---
The war against pre-terrorism The Tarnac 9 and 'The Coming Insurrection'
---
NASA Selects Material For Orion Spacecraft Heat Shield
---
Nicolas Mahler's Spam Cartoons
---
The Incest Chart of the Habsburg Family
---
Stand By Me: A Music Collaboration On The Streets
---
Bombing Civilians: An American Tradition
---
Deep in the Heart of Texas: A Bar Fight, A Mother's Wish, and Posthumous Sperm Donation
---
monochrom: Official Honoree for NetArt and Personal Blog/Culture in The 13th Annual Webby Awards
---
The Pentagon's Bionic Arm
---
The Road to 9/11
Review of Peter Dale Scott's book "The Road to 9/11: Wealth, Empire, and the Future of America".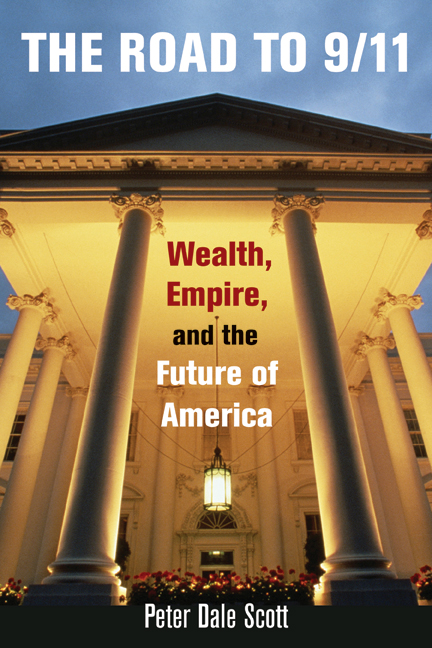 Writing with a touch of the charm of the poet that he is, Dr. Scott has been walking us through this political-historical shadow land for some time now. The Road to 9/11, which as the title indicates, provides historic origins of the terrorist strikes of September 11th 2001, builds on and extends his prior research into secret intelligence activities as presented in his two past UC Press books; Cocaine Politics: Drugs, Armies, and the CIA in Central America (1993) and Deep Politics and the Death of JFK (1996) (among others) by speaking both about current concerns with the Bush-Cheney administration in relations to the events on 9/11/01 and by going further backwards – scrutinizing secret American governmental activities just after the end of World War II. It vividly concentrates on Richard Nixon's failed regime and Tricky Dick's early forays into threatening constitutional democracy as revealed during the Watergate hearings. He then depicts and examines the activities of Nixon's successor Gerald Ford, concentrating on his (what would later become neo-con) team of Donald Rumsfeld and Dick Cheney. Scott pays close attention to the Rumsfeld-Cheney collaboration under Ronald Reagan's regime on what is known as the Continuity of Government (COG) strategy: a parallel planning structure in lieu of nuclear war which includes plans for warrantless surveillance, suspension of habeas corpus, and the arrangements for mass detention; proposals which can also be described as plans for a potential military-civilian coup. By now the narrative of shadow government - what Scott calls "deep politics" – has taken hold and the book begins to read like an airport page-turner; scorching the eyes with tale after tale of intrigue and deception. But the characters are real (Kissinger, Casey, Brzezinski, Carter, Reagan, the Rockefellers, bin Laden, Clinton, et al) and the events - which rotate around big oil, terrorism, drug trade, arms deals, covert financing and secret security configurations are heavily documented in the copious footnotes (which I equally read with jaw-dropping fascination). Highlighted are the adventures of multiple intelligence agencies and their involvement with terrorist organizations that they once backed and helped create, including al Qaeda. At this point Scott's deep political analysis has a kind of Rimbaudian poetics to it, astutely avoiding moral condemnation. He is just letting the deviant facts speak for themselves.

Already there is material here for numerous Hollywood blockbuster films, but 3/4th through this dark narrative thoroughly takes off. Enter the reckless American empire of George W. Bush and his neo-con administration. With the intelligence of a scholar and the sensitivity of a poet, Scott's description puts forward here evidence that the 9/11 attacks were the zenith of long-standing, but secret, trends that menace the existence of American democracy as an open society. Additionally, he questions why the U.S. trillion dollar defense system failed to protect on 9/11. He also shows through extensive research that there has been a substantial cover-up of the events on 9/11. Here Scott specifically zooms in on suspicious statements and actions made by Vice President Cheney and Defense Secretary Rumsfeld; before, during and after September 11th. He focuses our attention specifically on the Continuity of Government plan that was called into action that morning, outlining Cheney's secret communications with Rumsfeld and President Bush before or about 10 AM.
Link
---
Compassion: Easier For A Broken Leg Than Heart
---
The Sales Effort and Monopoly Capital
---
Falco staircase in Minneapolis!
---
Marvin Minsky is worried about robots and umbrellas
---
Scientists Pinpoint The 'Edge Of Space'
---
The world after Keynes
---
Saudi judge upholds man's marriage to 8-year-old
---
Do Parents Matter?
---
Sarah Palin's "I Kid You Not": Knowingness and Other Shallows
---
From Fatwa to Jihad: The Rushdie Affair and Its Legacy
---
Social Media Networks Are Music's Curse and Salvation
---
Making Sense of Things: The Tradescant's Ark Experiment
---
Drunken Nation: Russia's Depopulation Bomb
---
French Bill Would Bar Illegal Downloaders From Internet
---
Earth's "Great Oxidation Event"
---
The Dark Side of Dubai
---
Galileo: Heretic's middle finger on display
---
8 out of 10 Britons unaware of Darwin anniversary
---
Quantum lasers: Half light, half matter
---
Financial Regime Change?
---
Yuri's Night / Vienna 2009
---
Bug eats electricity, farts biogas
---
'Born in the USA' turns 25
---
Capitalism is Dead, Long Live Capitalism?
---
Pun for the Ages
---
Economic Secrets of the Wizard of Oz
---
The Terror: Civilization, Decadence, and Hope
---
Bollywood Going On Strike
---
Why Biofuels Are the Rainforest's Worst Enemy
---
The End of the Music Album as The Organizing Principle
---
Soviet Unterzoegersdorf / Sector 2: Public Walkthrough
---
monochrom @ re:publica 2009
---
[The Archives]


---
---
---

---
---
.
.
.
.
.
---
---
---
---
---
---
---
---
---
---
---
---
---
---
---
---
---
---
---
---
---
.
.
.

---
---
---

Soviet Unterzoegersdorf / Sector 2 / The Adventure Game
Krach der Roboter: Hello World!
Slacking is killing the DIY industry (T-Shirt)
Carefully Selected Moments / CD, LP
Freedom is a whore of a word (T-Shirt)
International Year of Polytheism 2007
Santa Claus Vs. Christkindl: A Mobster Battle
Kiki and Bubu and The Shift / Short film
Kiki and Bubu and The Privilege / Short film
Kiki and Bubu and The Self / Short film
Kiki and Bubu and The Good Plan / Short film
Kiki and Bubu and The Feelings / Short film / Short film
Soviet Unterzoegersdorf / Sector 1 / The Adventure Game
I was a copyright infringement in a previous life (T-Shirt)
Firing Squad Euro2008 Intervention
I can count every star in the heavens above -- The image of computers in popular music
All Tomorrow's Condensations / Puppet show
The Redro Loitzl Story / Short film
Law and Second Order (T-Shirt)
They really kicked you out of the Situationist International?
When I was asked to write about new economy
Arse Elektronika 2007, 2008, 2009 etc.
The Void's Foaming Ebb / Short film
The Charcoal Burner / Short film
Fieldrecording in Sankt Wechselberg / Short film
Campaign For The Abolition Of Personal Pronouns
Entertainment (Unterhaltung) / Short film
Nicholas Negroponte Memorial Cable
Experience the Experience! (West Coast USA/Canada Tour 2005)
A Holiday in Soviet Unterzoegersdorf
Massive Multiplayer Thumb-Wrestling Network
Soviet Unterzoegersdorf Metroblogging
Every Five Seconds an Inkjet Printer Dies Somewhere
452 x 157 cm² global durability
Blattoptera / Art for Cockroaches
An attempt to emulate an attempt
The Department for Criticism against Globalisation
Disney vs. Chrusov / Short film
Turning Threshold Countries Into Plows
Roböxotica // Festival for Cocktail-Robotics
Cracked Foundation For The Fine Arts
Oh my God, they use a history which repeats itself! (T-Shirt)
Administrating:
---
---
---

.
.
.
.
.