Great new Zeigerpointers have been added to our collection!
But what's a Zeigerpointer?
The Zeigerpointer (a German-English word-mix tautology that we feel free to give birth to) is the most penurious form of capitulation in the print media. Various people, predominantly in local newspapers or magazines of regional interest, are forced by photographers armed with Zeiss-lenses to indicate occurrences. These people have to point at things. With their bare hands! They have to present occurrences that withdraw themselves through their absence, through optical expiration or simply the course of time. Like car wrecks that have already been recovered, asylum seekers that have fled, or burnt down buildings that were entirely consumed by the fire. Occurrences that elude the media machinery because of visual boredom or a state of simply-not-there-anymore. Well, then let's give our readers a Zeigerpointer! The Zeigerpointer shall zeigerpoint it out!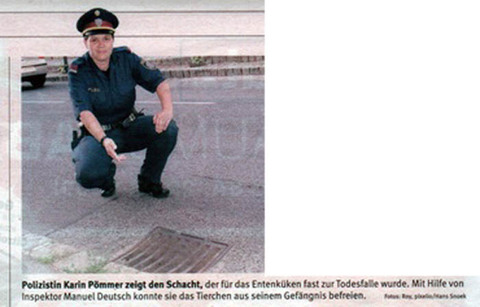 ("Police officer Karin Pömmer shows the manhole that nearly became a death trap for the duckling.")
Link