////////
///////
SOVIET UNTERZOEGERSDORF
//////
/////
SECTOR II
////
///
The Adventure Game
//
/
An adventure marches on!
Soviet Unterzoegersdorf (pronounced "oon-taa-tsee-gars-doorf") is the last existing client republic of the USSR. The soviet enclave maintains no diplomatic relationship with the surrounding so-called "Republic of Austria" or with the capitalist fortress "European Union". The downfall of the people's motherland -- the Soviet Union -- in the early 1990s had a devastating effect on the country's intra-economic situation. External reactionary forces threatened the last remaining proletarian paradise.
Party secretary Wladislav Gomulka has been kidnapped and is being held in US-Oberzoegersdorf. We must save comrade Gomulka! Because communism isn't an opinion. It's a promise.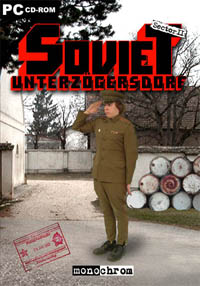 Special Non Player Guest Characters:
Jello Biafra, Bruce Sterling, Cory Doctorow, Emmanuel Goldstein, Mitch Altman, Bre Pettis, David 'DaddyD' Dempsey, Kyle Machulis, MC Frontalot, Eddie Codel, Irina Slutsky, Christian 'plomlompom' Heller, Jason Scott Sadofsky, Hans Bernhard, Robert Stachel (maschek) -- and many more.
Voice Acting by:
Jevgeni Beliaikin, Sergey Teterin, Mikhail A. Crest, Daria Prawda, Bre Pettis -- and many more.
Soundtrack features:
The Fat Man/George Alistair Sanger, Q-Burns Abstract Message, Zoe Keating, Neil Landstrumm, Jonathan Mann aka GameJew, Blockwerk, The Extra Action Marching Band, The Lazy, antivolk - Torsun feat. classless Kulla, Jan Klesse & Felix Knoke (left), Savant Trigger, Rioteer, MC Orgelmueller, Magic Jordan, Schaua, Horace, The Vladivostoks, Limpopo, Eric Skiff, Prometheus X, Kertal (feat. sunsetfactory), Bolschewistische Kurkapelle Schwarz-Rot, Farmers Market, Attention, Cosmonauts!, Woodn Earf, Trishes, Krach the Robot, Prosperity Denied, Arteom Denissov, Dan Oberbauer aka DJ Chronos, LFO DEMON -- and more.
Operating systems:
Available for Windows, Linux and OSX! And many thanks to the fabulous comrades at
CodeWeavers
for Linux/OSX versions. And also bloshevik geetings to the folks at
Silver Server
for bandwidth sponsoring.
For IBM PC and Non-Compatible! A true tour-de-red-force! Russian with English or German subtitles! Appealing graphical game interface! Creative Commons License!
Link / Download