monochrom report //
"Lord Jim Lodge powered by monochrom" is winner of Coke Light Art Edition 2006:
We were asked to participate in the 2006
Coke Light Art Edition
contest. The topic was "BRAVERY & INDIVIDUALITY, Courage To Create Your Own Luck" (haha!). Well, we took part. And we won.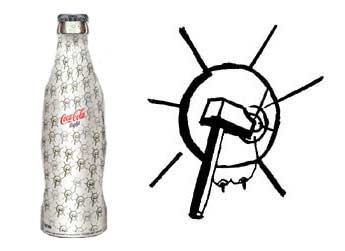 Have a look at our strategic concept paper. For a world of radical beauty and exclusive bottles in small editions! In the end we are all individuals -- at least as long as nobody comes along and proves the contrary.
Celebration: September 21, 2006. Arena MQ, Vienna. (And be aware!)
Link