Before Mickey: The Animated Film, 1898-1928:
Donald Crafton's wonderful book about the prehistory of animation - zoetrope, flipbooks, and vaudeville "lightning sketches".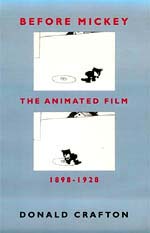 Quote: "Before Mickey's fast-moving narrative will appeal to readers with a general interest in film history. And its documentary material covering artistic, commercial, and technological developments in the United States and Europe will prove invaluable to animation specialists. Crafton makes use of over 100 illustrations, including enlarged film frames, reproductions of advertisements, and pictures of innovative techniques and devices."
Link