New monochrom content //
Let's network it out:
Our new version of the networking anthem
"Let's network it out"
is finally online. The track was produced for the CD of
"Update"
, an exhibition at Künstlerhaus Vienna. The original version of the song was created for our project at the São Paolo Biennial 2002.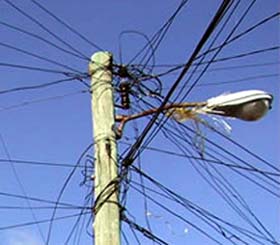 Background story:
Since February 2000 Austria has been governed by a very right-wing government. Thus the independent art curator's selection of
monochrom
as Austria's national representatives at the São Paolo Biennial 2002 was a quite an interesting political statement. We decided to do a tactical-ironical project. Instead of doing an exhibition as monochrom, we decided to send Georg Paul Thomann to Brazil. Who is Georg Paul Thomann? He is a fictitious 57-year-old Austrian avant-garde artist. We wrote his complete biography (around one hundred pages) and asked fellow artists, writers and pop theorists to write articles about his life and work, which were published as the catalogue of the exhibition. It took the media quite a long time to actually figure out the whole art-avatar maneuver. The Thomann biography grew to be an amusing overview of pop, art and intellectual history during the past four decades ­with fictitious guest appearances from people like William Gibson, Peter Handke or Alan Jenkins. Anyway, you might like our approach - and by the way: Georg Paul Thomann
saved the country of Taiwan
...
Let's network it out (MP3) // Link
Georg Paul Thomann biography // Link