Keine Ausstellung.
Mit Roboterkonzert
von
Angela Grasser und
Andreas Stoiber.


Freienwalder Straße 20
13359 Berlin 20.00 Uhr

"Tempo Lectri", an Okto-TV show by
Gratis Georg Strumpf and Al Bird Dirt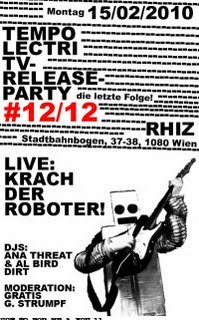 Last Episode of Al Bird Dirts Okto-Tv "Tempo Lectri" will be shown.
In the Film, Krach der Roboter explains "How to be a Robot" and
plays an Acid-Noise concert afterwards.


Montag, 15.02.2010, Vienna
rhiz, guertelbogen 37/38
Beginn: 22 Uhr. Free entry.