monochrom and Traum&Wahnsinn present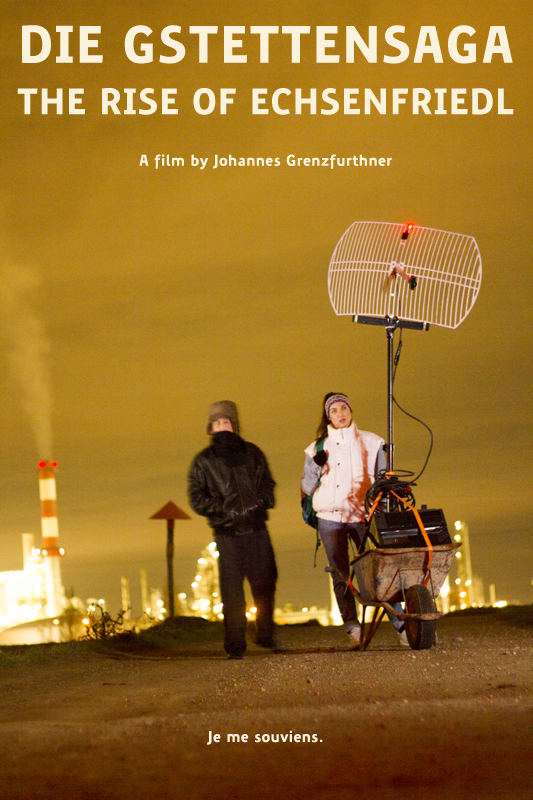 A long time ago, the so-called "Google Wars" engulfed the whole world in a deadly chain reaction. Civilization came to a grinding halt. But there is still hope. This is the story of a new beginning...
A film by Johannes Grenzfurthner

Written (backstory) by Johannes Grenzfurthner and Roland Gratzer

Starring Sophia Grabner, Lukas Tagwerker, Martin Auer, Jeff Ricketts, Joe Baumgartner and many more...
Cinematography by Thomas Weilguny / Editing by Estelle Hödl, Josef P. Wagner / Costumes: Sarah Strauss / Assistant director: Juliana Neububer
Music by Kasson Crooker, Starpause and others...
Awards for Gstettensaga

Won: Best Foreign Horror Feature 2014 / The Indie Gathering International Film Festival
Won: Best Hacker Feature 2014 / PhutureCon Festival
Won: Best Foreign Cult Movie 2014 / Fright Night Film Fest
Won: Best Narrative Feature 2014 / Maker Film Festival
Won: Award of Superiority 2014 / Microfilmmaker Magazine
Won: Award of Merit 2014 / The Indiefest Film Awards
Nominated: Best Feature 2014 / Color Tape Film Festival
Nominated: Best Foreign Language Feature Film 2015 / International Filmmaker Festival of World Cinema
Nominated: Best Soundtrack 2015 / International Filmmaker Festival of World Cinema
Nominated: Best Director of a Foreign Language Film 2015 / International Filmmaker Festival of World Cinema
Nominated: Finalist / Best Film 2015 / The DIY Film Festival 2015
Praise for Gstettensaga
"





Grenzfurthner's outspoken, swiftly flying little flick is the must-see indie of 2014, as far as I'm concerned. Everyone, be they intellectuals, political-types, or simply those that love great blackly comic, sensual horror, will fall madly in love with 'Die Gstettensaga: The Rise of Echsenfriedl'. See it, as soon as possible, and I promise you'll never be bored at the movies again."
(Amy R. Handler, Film Threat)
"




It's rare to hear a movie audience burst out with such delightful laughter. A brilliant creation that redefines the term 'horror.'"
(Bianca Hofbauer, Press Play)
"Johannes is a brilliant lunatic of surpassing and delightful weirdness."
(Cory Doctorow, Boing Boing)
"The best kind of low-budget filmmaking... it is like watching an absurdist play by Beckett, if Beckett decided to work on the Mad Max franchise."
(Jason Scott, Textfiles)
"Setting the film in the future forces hackers to confront a choice: Will we let ourselves and our ingenuity be recuperated by all-consuming market forces? Or will we come together - as is our potential - as the class that ends capitalism's conquest to secure all means of production?"
(Ishan Raval, 2600 Magazine)
"I'm overenthusiastic about Gstettensaga - because it distracts the Hollywood canon, because it is such a genre bender, a satiric H bomb, going for the unexpected dialectical turns of current history."
(Stefan Tiron)
"A pure nerdy underground gem between Monthy Python and the Frêres Denis."
(France Culture, Politique de l'algorithme)
"A mad post-collapse satire of information culture and tech fetishism, in a weird sort of melding of Stalker, Network, and The Bed-Sitting Room."
(Richard Kadrey)
"The old world has been reduced to ashes by the earlier beacons of hope (China stands for Maoism and Google for alternative culture). All that remains are stretches of land governed by idiocy and dialects. As Marxists, the people from Monochrom know that only the revolution can free us from capitalism. And yet the revolution is no more alive than unicorns are."
(Sebastian Vetter)
"Forces us to think deeper about the fact that much of today's romanticized revolutions often go eerily hand in hand with the development of digital capitalism. Few films today, if any, manage to do such a feat."
(Bonni Rambatan)
"Impressive."
(Jens Ohlig, Wikimedia)
"Hackploitation art house... reimagining the makerspace as grindhouse ... the Gstettensaga's fascinating cinematic pastiche is more than just a firework of rhizomatic intertextuality, a symptom of the depthlessness of postmodern aesthetics or excessive enthusiasm for experimentation in the field of form."
(Stefan Lutschinger, Furtherfield)
"Gstettensaga is a lot of fun -- and it will leave you with a refreshingly bitter aftertaste."
(YMR)
Television
ORF III / March 10, 2014 as part of "ORF III Artist in Residence."

Cinema premiere
Breitenseer Lichtspiele, Vienna / March 7, 2014; 8:30 PM / Facebook event.
Festival screenings

Tamtam (Seara de proiectie la TT) / May 7, 2014 (Timisoara, Romania)
KOMM.ST Festival / May 11, 2014 (Anger, Austria)
Supermarkt (Dismalware) / June 7, 2014 (Berlin, Germany)
Fusion Festival / June 25-29, 2014 (Lärz Airfield, Mecklenburg, Germany)
Roswell International Sci Fi Film Festival / June 26-29, 2014 (Roswell, New Mexico, USA)
iRRland movie night / June 30, 2014 (Munich, Germany)
qujochö Film Summer / July 3, 2014 (Linz, Austria)
Metalab Stadtflucht / July 11, 2014 (Lindabrunn, Austria)
Neighbors on Planet Earth / July 17, 2014 (New York, New York, USA)
HOPE X / July 18-20, 2014 (New York, New York, USA)
Betalevel / July 28, 2014 (Los Angeles, California, USA)
Fright Night Film Fest / August 1-3, 2014 (Louisville, Kentucky, USA)
Maker Film Fest 2014 / August 9-10, 2014 (Durango, Colorado, USA)
Gen Con Indy Film Festival 2014 / August 14-17, 2014 (Indianapolis, Indiana, USA)
The Indie Gathering International Film Festival / August 15-17, 2014 (Hudson, Ohio, USA)
San Francisco Global Movie Fest / August 15-17, 2014 (San Jose, California, USA)
Rostfest / August 21-24, 2014 (Eisenerz, Austria)
Noisebridge / August 29, 2014 (San Francisco, California, USA)
Utopia Tel Aviv International Fantastic Film Festival / September 13-20, 2014 (Tel Aviv, Israel)
/slash Filmfestival / September 18-28, 2014 (Vienna, Austria)
Ninth Street Independent Film Center / September 30, 2014 (San Francisco, California, USA)
Fright Night Horror Weekend Film Fest / October 3-5, 2014 (Louisville, Kentucky, USA)
Simultan Fest / October 6-11, 2014 (Timisoara, Romania)
Phuture Fest / October 11, 2014 (Denver, Colorado, USA)
prol.kino / October 14, 2014 (Graz, Austria)
NYC Independent Film Festival / October 15-19, 2014 (New York, New York, USA)
Thriller Chiller Film Festival / October 22-25, 2014 (Grand Rapids, Michigan, USA)
TU Graz, Referat für Gesellschaftskritik / November 6, 2014 (Graz, Austria)
Kombüse Graz / November 21, 2014 (Graz, Austria)
New Orleans Comic Expo / November 21-23, 2014 (New Orleans, Louisiana, USA)
International Filmmaker Festival of World Cinema / February 25-28, 2015 (London, UK)
Project Speis / February 26, 2015 (Vienna, Austria)
Kulturhof Amstetten / May 8, 2015 (Amstetten, Austria)
Movie reviews and references

ORF, Radio FM4.
Telepolis.
Laughing Squid.
Noisebridge.
Textfiles.
Bruce Sterling's Tumblr.
V. Vale (RE/Search).
Mein Bezirk / komm.st (teaser).
France Culture / Politique de l'algorithme.
Iron Feather Journal.
Richard Kadrey's DT.
Mein Bezirk / komm.st (review).
Metalab / SV.
Skug.
Telekommunisten / Rambatan.
nitrocellulose.
Furtherfield.
Film Threat.
Your Movie Reviews.
Bayerischer Rundfunk, Zündfunk.
Boing Boing.
Microfilmmaker Magazine.
Zacamant.
Heute Wien.
Radio TLV1, Tel Aviv.
Jungle World.
Press Play.
DVD-Forum.at.
Kalafudra.
A life in 24 fps.
Vice Austria.
ACFNY.
Oe-Journal.
2600 Magazine.
Der Ludwig.
Nerdvana.
Abandomoviez.
Neutral.it.
Lotek64.
Testcard.

General links

IMDb entry (including trivia).
Wikipedia entry.
Rotten Tomatoes.
Facebook page.
Press images.