---
Johannes Grenzfurthner about sex and tech in 'de:bug'

(German language.)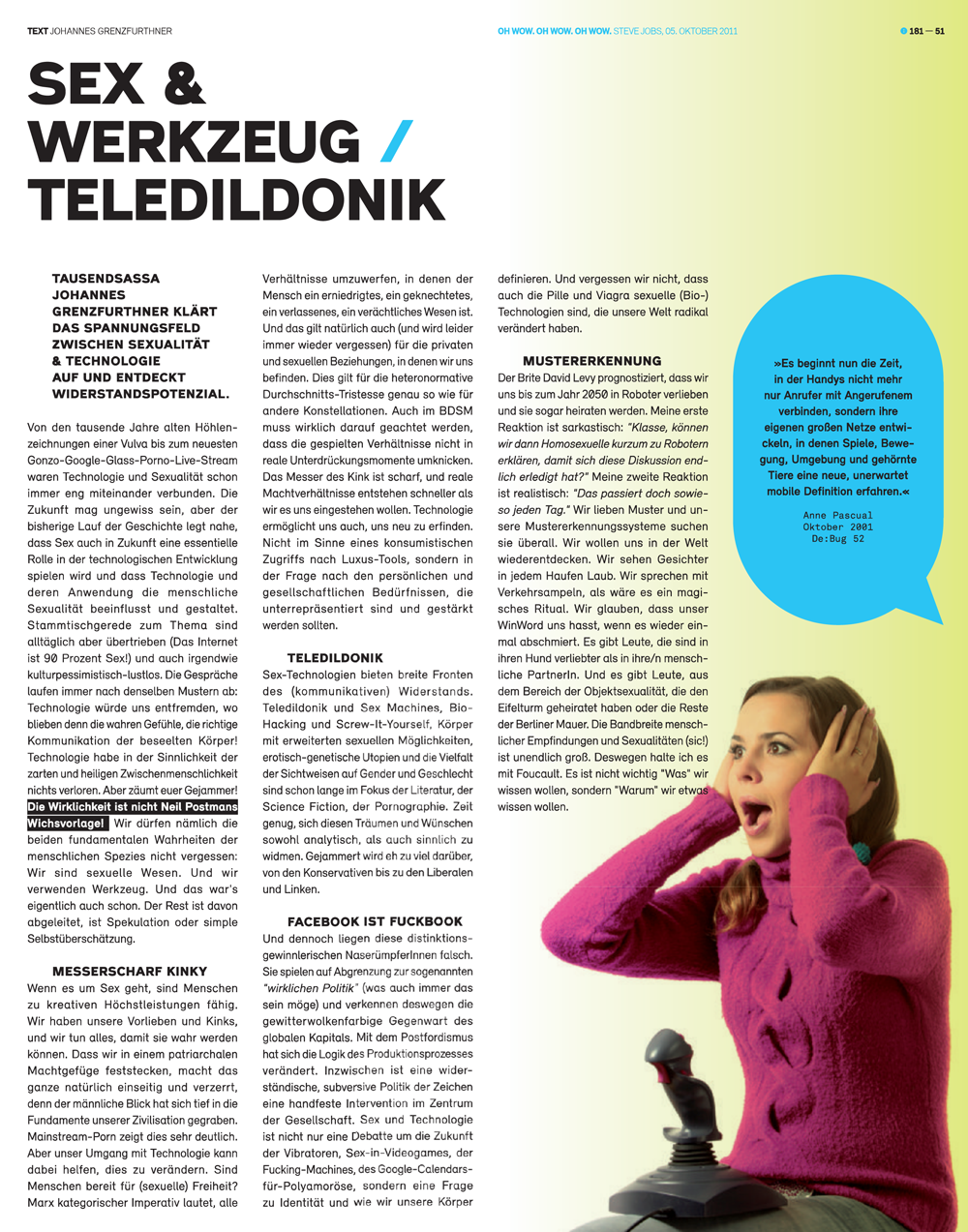 (Click to enlarge.)


---
Gstettensaga featured on Laughing Squid

Oh yes.
Die Gstettensaga: The Rise of Echsenfriedl is a feature length sci fi comedy set in a post apocalyptic future in which the world has been devastated by the "Google Wars." The film is the first feature length production from Austrian art and technology group Monochrom. It was directed by Johannes Grenzfurthner.
More here (including that one link, well)


---
Arse Elektronika nibble in Playboy

Little Arse Elektronika shout-out in Playboy, March 2014.
Voila!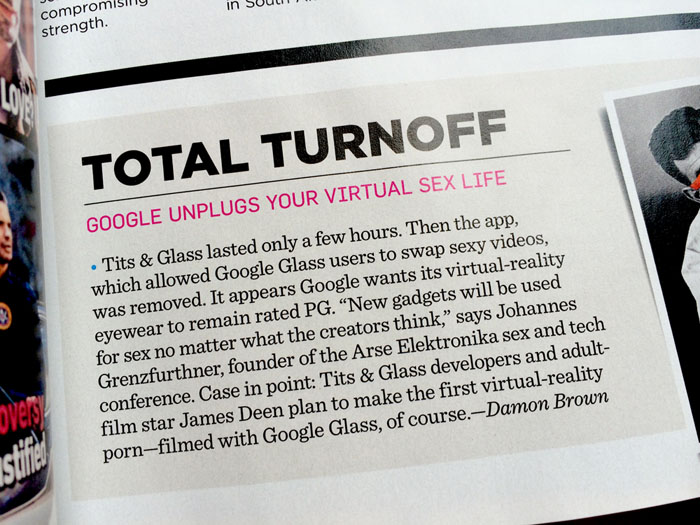 ---
Die Gstettensaga: Review on PlanetNeukoln.tv

Stefan Tiron wrote a great review of our feature film "Die Gstettensaga".
I recently had the great satisfaction to watch a preview of a very fresh postapocalyptic feature film + a directorial debut, that premiered on Austria's ORF in March this year. What I was asking myself this time was to try and appreciate an entirely different kind of algorithmic force that was once again set loose by Johannes Grenzfurthner (of monochrom fame) upon unsuspecting survivors of the last 35 years of road-warrior, post-nuke, after-the-bomb films.

As a friend just tweeted, now every Hollywood blockbuster seems to be written by some underlying algorithm. The end credits are just the cinematic equivalent to a CAPTCHA response – trying to identify the film crew as human, even if this last human verification test is untenable and obsolete.
Well, I kinda have this incredible (and maybe you do too!) and perverse desire to get to the bottom of actual directorial algorithms – trying very hard to enter the loop and be able to forget how Hollywood movie after movie manages to push an exact quota of car explosions, 3D makeover, eye-popping HD footage, hero worship, body count, family values, rescue missions ad infinitum into box office paradise.

Let's be clear, I'm overenthusiastic about Gstettensaga – because it is such a genre bender, a satiric H bomb, a horror movie and ex-auction house vaudeville going for the unexpected dialectical turns of current history, and leading us into the untrodden and definitely outrageous wastelands that could be populated by the likes of Surf Nazis Must Die, Escape from NY, Steel Dawn or America 3000.
[...]
Link
---
Crowdratting works: "Die Gstettensaga: The Rise of Echsenfriedl"

"Die Gstettensaga: The Rise of Echsenfriedl" contains a text insert similar to watermarks used in festival viewing copies: "This viewing copy is provided for awards consideration only." The text insert asks the viewer to report the film as copyright infringement by calling a premium-rate phone number (1.09 EUR/minute). The film aired on Austrian national television in March 2014. Art group 'monochrom' co-financed the film with proceeds from the premium-rate number. They call this new strategy 'crowdratting.'
More trivia: here.
---
"Are You Ready to Fuck Like a Nerd?" -- Arse Elektronika shout-out on Vice blog

Sure, classic nerds might be into MythBusters, Magic: the Gathering, and Minecraft. But they're also into sex. In fact, the crossover between sex and the more traditional realms of nerd interest is longstanding; science fiction, for example, is frequently pointed at as a source of progressive and even transgressive sexual theory.

In devising alternate universes, authors, filmmakers, and fans imagine new ways of living, loving, and fucking. Sci-fi and comics are full of latex and leather and futuristic orgy planets where anything goes. Everyone loves it. Conventions like Arse Elektronika exist exclusively to provide an intersection for the worlds of sex and tech.
Link
---
monochrom: Context Hacking Workshop in Linz

As it emerged in the 90s, the concept "communication guerilla" was, not least of all, a response to the exhaustion of traditional leftist activism after the fall of the Berlin wall. The search for new forms of praxis led (at least in some points) to a new, transversal praxis beyond the realm of the "old" activism - even though the point of departure for this search was the experience of a seminal defeat of the left. Today, following the rise and possibly already the incipient downfall of a new global movement, the situation is a different one, and the question arises as to the extent to which this concept from the 90s is still useful. The new activism has become more global, more networked, but most of all, it has developed a new dynamic beyond political and national borders. At the same time, however, this activism still evinces many features of the old polit-activism, not only in the neo-communist party version of the SWP (Socialist Workers Party) and Globalize Resistance. Despite all the rhetoric, activism often still has a stance that is strangely separated from people's everyday life, even that of its own protagonists. The future of this global activism will depend on whether it succeeds in being capable of action at the local level, the level of everyday life, while continuing to develop its transversal, border-crossing character at the same time. The most important border that has to be crossed is the border that constitutes the activist her or himself in a separation from the "rest" of society. We think that the praxis of the communication guerilla can contribute to this kind of border-crossing.

At Art University Linz, Kollegiumgasse 2, 4th floor, Linz, Austria.

April 27 and April 28, 2014, 10:30am-5:00pm.


---
monochrom featured in reader "Truth is Concrete"

A handbook for artistic strategies in real politics.

How does art play a role in social and political struggles all over the world? Can it be a tool with which to shape the world rather than just reflect it? Following on from the "Truth is concrete" 24/7 marathon camp at the 2012 steirischer herbst festival, a manual of artistic strategies in politics and society is to be published in spring 2014 and is now available for pre-ordering. "Truth is concrete" collects 100 strategies by artists, activists and theorists, mapping the broad field of engaged art and artistic activism today. Additional essays focus on the philosophy, structures and modalities behind the many fights to make this world a better place.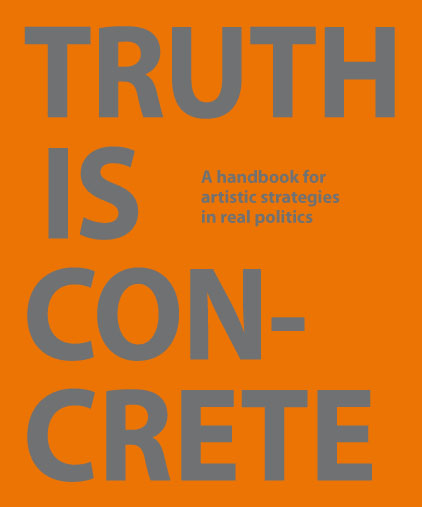 Essays by Stephen Duncombe & Steve Lambert, Alanna Lockward, Chantal Mouffe, Florian Malzacher, Gerald Raunig & Jonas Staal
A conversation with etcetera, Nato Thompson & WHW

Original contributions by Adbusters, Jonathan Allen, Udi Aloni, Hector Aristizabal, Artleaks, Katherine Ball, Leah Borromeo, Andrew Boyd, Tania Bruguera, Boris Buden, Carlos Celdran, Center for Political Beauty, chto delat, church of kopimism, Santiago Cirugeda, Corrupt Tour, Gabriela Csoszó, Minerva Cuevas, Neil Cummings, Diedrich Diederichsen, Charles Esche, Roza El Hassan, Femen, Noah Fischer, Andrea Fraser, Isabelle Fremeaux, Christine Gaigg, Ganzeer, Federico Geller, Marina Grznic, Núria Güell, Erdem Gündüz, Hans Haacke, Stefano Harney, Carl Hegemann, iconoclasistas, Institute for Human Activities, International Institute for Political Murder (IIPM), Janez Janša, Khaled Jarrar, Anna Jermolaewa, Jeudi Noir, John Jordan, Kaddu Yarrax, Kavecs, Janice Kerbel, Jisun Kim, Omer Krieger, Mierle Laderman Ukeles, André Lepecki, Lexxus Legal, Lawrence Liang, Liberate Tate, Geert Lovink, Matteo Lucchetti, Oliver Marchart, Joana Mazza, Tomislav Medak, Markus Miessen, Monochrom, Mosireen, Jean Luc Moulène, Rabih Mroué, Michael Murin, Marina Naprushkina, Neue Slovenische Kunst (NSK), occuprint, Ahmet Öüt, Robyn Orlin, Sibylle Peters, Pixadores, Sra Popovi, Raivo Puusemp, raumlaborberlin, Reverend Billy, Richard Reynolds, Scott Rigby, Irit Rogoff, Florian Schneider, Shared Inc., Gregory Sholette, Stevphen Shukaitis, Mladen Stilinovi, Kuba Szreder, Claire Tancons, The Haircut Before The Party, The Laboratory of Insurrectionary Imagination (LABOFII), The Pinky Show, the vacuum cleaner, The Yes Men, Tiqqun, Tools for Action, Ultrared, Marina Vishmidt, VOINA, Joanna Warsza, WochenKlausur, Stephen Wright, Yomango, Salam Yousri, Wu Yuren et al.

Edited by steirischer herbst & Florian Malzacher
Co-edited by Anne Faucheret, Veronica Kaup-Hasler, Kira Kirsch, Andreas R. Peternell & Johanna Rainer

Sternberg Press
April 2014, English
16 x 22 cm, approx. 300 pages
Retail price € 19.00
(Till 12/04/2014: € 17,00)

Link


---
Context Hacking: Some Examples of How to Mess with Art, the Media System, Law and the Market @ Shenkar Design School

The term "context hacking" --like its older mimetic sibling "communication guerrilla" -- refers to unconventional forms of communication and/or intervention in more conventional processes of communication. Context hacking is a specific style of political action drawing from a watchful view of the paradoxes and absurdities of power, turning these into the starting point for interventions by playing with representations and identities, with alienation and over-identification.

Johannes Grenzfurthner will present some projects by monochrom, a worldwide operating collective from Vienna dealing with technology, art, and philosophy that was founded in 1993. The group specializes in an unpeculiar mixture of proto-aesthetic fringe work, pop attitude, subcultural science, and political activism. Their mission is conducted everywhere, but first and foremost "in culture-archaeological digs into the seats (and pockets) of ideology and entertainment."

February 25, 2014, 12 noon at Shenkar Design School, Tel Aviv, Israel.


---
Arse Elektronika on mako.co.il

Nice write-up about sex, tech and Arse Elektronika on mako!
Enjoy!

Link (Hebrew)


---
Arse Elektronika: Sex, Tech and the Future of Screw-It-Yourself @ Ha-Midrasha, Tel Aviv

A talk performance by Johannes Grenzfurthner / monochrom.
We may not forget that mankind is a sexual and tool-using species.
From the depiction of a vulva in a cave painting to the newest internet porno, technology and sexuality have always been closely linked. New technologies are quick to appeal to pornography consumers, and thus these customers represent a profitable market segment for the suppliers of new products and services.
Currently, all factors show that high-tech developments owe a great deal of their success to the need for further sexual stimulation. One could cite the example provided by the science-fiction concept of a full-body interface designed to produce sexual stimulation. But it isn't science fiction anymore. It's DIY.
As bio-hacking, sexually enhanced bodies, genetic utopias and plethora of gender have long been the focus of literature, science fiction and, increasingly, pornography, this year will see us explore the possibilities that fictional and authentic bodies have to offer. Our world is already way more bizarre than our ancestors could have ever imagined. But it may not be bizarre enough. "Bizarre enough for what?" -- you might ask. Bizarre enough to subvert the heterosexist matrix that is underlying our world and that we should hack and overcome for some quite pressing reasons within the next century. Don't you think, replicants?
February 27, 2014, 8 PM, presented by Ha-Midrasha in cooperation with Print Screen. At Ha-Yarkon Street #19, Tel Aviv, Israel.


---
monochrom features: "SAFECAST: Citizen Science after Fukushima Makes an Impact"

monochrom is glad being able to present a talk by really good friends.
Safecast is a non-ideological, non-profit, volunteer-based organization created in the days immediately following the the Fukushima NPP disaster, which began three years ago on March 11, 2011. The release of radioactive material was accompanied by a disturbing lack of clear public information concerning radiation levels in the affected areas, and a series of missteps and misstatements by the Japanese government and by TEPCO damaged their credibility in the eyes of large segments of the population. Credible and independent data concerning the growing radiation risk was sought by many to fill the acute information vacuum.
SAFECAST quickly began to field mobile detectors of its own design, which leveraged open-source software and hardware and new-generation DIY tools such as laser cutters and custom PCB fabrication to dramatically accelerate development and deployment time. The group simultaneously developed an information management system that allows GPS-tagged radiation data points to be uploaded into a central database and displayed on an interactive web-based map. SAFECAST's radiation information system has seen the rapid deployment no fewer than seven increasingly refined GPS-enabled mobile radiation detector designs, called "bGeigies," the web-based "GeoSense" map, a free iOS-based map application, and other devices and software, all developed by volunteers and made freely available through Creative Commons licenses.

The radiation data gathered by SAFECAST volunteers in Japan and abroad currently exceeds 15 million data points, arguably the most extensive public data set of its kind. It was soon hailed as a technically competent, credible, and objective source of radiation information for Japan by specialists on both sides of the nuclear power debate. SAFECAST has been invited to present it's methodology and criticisms at the IAEA "International Experts' Meeting on Radiation Protection after the Fukushima Daiichi Accident: Promoting Confidence and Understanding," being held in Vienna from Feb. 17-21.

At Raum D, SAFECAST Volunteers Joe Moross and Azby Brown will show the group's latest mobile radiation detector designs, talk about iterative design and the challenges of building a technically adept global volunteer organization, and discuss what the future holds in store.
Raum D, Museumsquartier, Vienna.
February 21, 2014 at 7 PM.


---
monochrom's PROPOOL

SWIMMING POOL PISSERS!!!!
ENOUGH!


Link
---
monochrom press overview 2013

139 pages. Not bad.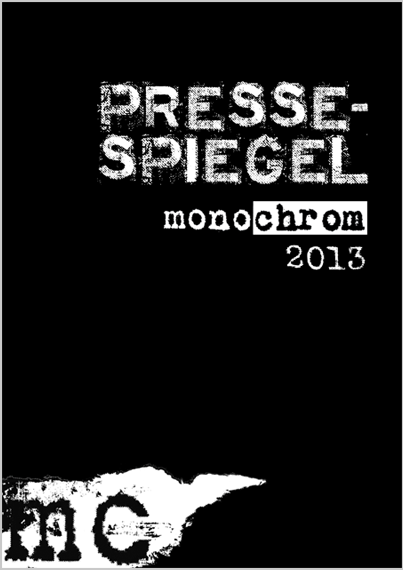 Link (PDF)


---
Johannes Grenzfurthner (monochrom) @ Cybersalon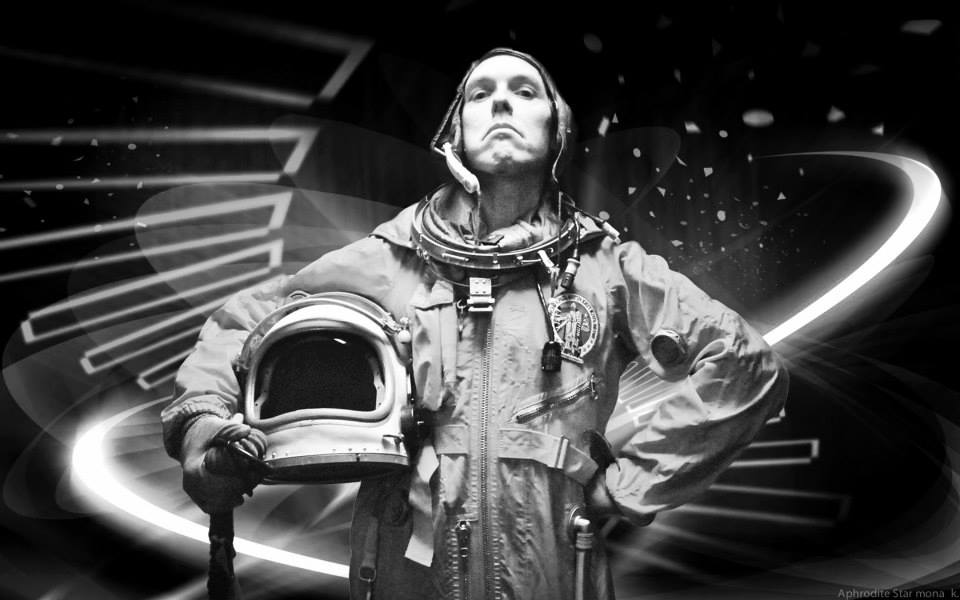 Image by Mona K Artist.


---
[Archive]
---
---
---
---
---
---
---
---
---
---
---
---
---
---
---
---
---
---
.
.
.

---
---
---

Die Gstettensaga: The Rise of Echsenfriedl (Feature film)

Nothing To Hide (Documentary feature film)

ProPool

23 Works (Short films)

Wellness As Usual

Context Hacking (Essay)

Context Hacking (Reader)

The Altogether Horrid Street Ballad Of Paratii

Earthmoving (Short film)

Sierra Zulu (Feature film project)

Hedonistika

Enforce (Short film)

Carpet (Short film)

They used to be better

Video Jingle(s)

monochrom's ISS

Soviet Unterzoegersdorf / Sector 2 / The Adventure Game

Lidl-Girl (Music video)

Rated R Us

Portraying The Terran Condition (Game)

alt.backen: monochrom's early phase picture begging outreach interface

Antidev

Title Sequence

monoleaks

Operation Overhead

Dismalware

Tasty (Short film)

The Earth Has Been Destroyed (Music video)

Six Feet Under Club

Krach: Anderswo (Single)

monochrom's Raw Image Format / Archive

Climate Training Camp

Soviet Unterzoegersdorf vs. Cheetos (Short Films, Ads)

Krach der Roboter: Hello World!

BP, listen up!

Wikileaks: The Ballet (feat. Unicorns)

Google Wars / RPG Extravaganza

Slacking is killing the DIY industry (T-Shirt)

Carefully Selected Moments / CD, LP

Freedom is a whore of a word (T-Shirt)

#fullboycott

International Year of Polytheism 2007

For you (Short film)

Santa Claus Vs. Christkindl: A Mobster Battle

Could It Be (Video clip)

Pot Tin God

Hacking the Spaces

Kiki and Bubu and The Shift / Short film

Kiki and Bubu and The Privilege / Short film

Kiki and Bubu and The Self / Short film

Kiki and Bubu and The Good Plan / Short film

Kiki and Bubu and The Feelings / Short film

Sculpture Mobs

Nazi Petting Zoo / Short film

The Great Firewall of China

KPMG / Short film

The BRAICIN / Short film

Soviet Unterzoegersdorf / Sector 1 / The Adventure Game

I was a copyright infringement in a previous life (T-Shirt)

Brave New Pong

Leben ist LARPen e.V.

One Minute / Short film

Firing Squad Euro2008 Intervention

RFID Song

The Hackbus

A tribute to Honzo

Lessig ist lässig

I can count every star in the heavens above -- The image of computers in popular music

All Tomorrow's Condensations / Puppet show

Bye Bye / Short film

Revaluation

PC/DC patch

Proto-Melodic Comment Squad

myfacespace.com

The Redro Loitzl Story / Short film

Hax0rcise SCO

Law and Second Order (T-Shirt)

They really kicked you out of the Situationist International?

Death Special: Falco

Applicant Fisch / Short film

When I was asked to write about new economy

Taugshow #6

Taugshow #7

Taugshow #9

Taugshow #10

Taugshow #11

Taugshow #14

Taugshow #15

Campfire at Will

Arse Elektronika 2007, 2008, 2009 etc.

The Void's Foaming Ebb / Short film

Remoting Future

When you / Short film

Elf

Free Bariumnitrate

Toyps / Typing Errors

ARAD-II Miami Beach Crisis

The Charcoal Burner / Short film

Digital Culture In Brazil

Hegemonchhichi

Nation of Zombia

Lonely Planet Guide action

CSI Oven Cloth

Dept. of Applied Office Arts

Farewell to Overhead

Google Buttplug

Fieldrecording in Sankt Wechselberg / Short film

Dark Dune Spots

Campaign For The Abolition Of Personal Pronouns

Zeigerpointer

Space Tourism

In the Head of the Gardener

Entertainment (Unterhaltung) / Short film

Cthulhu Goatse

Nicholas Negroponte Memorial Cable

Coke Light Art Edition 06

Experience the Experience! (West Coast USA/Canada Tour 2005)

April 23

Overhead Cumshot

Irark / Short film

Wart

Instant Blitz Copy Fight

A Patriotic Fireman

A Micro Graphic Novel Project

Noise and Talk

The Exhilarator

H&M

The Flower Currency

Gastro-Art/Gastrokunst

A Holiday in Soviet Unterzoegersdorf

How does the Internet work?

Paraflows 2006 and up

Special Forces

Coca Cola

About Work

Turing Train Terminal

Me / Short Film

Massive Multiplayer Thumb-Wrestling Network

Doormat

Some Code To Die For

The Year Wrap-up

Soviet Unterzoegersdorf Metroblogging

Project Mendel

Display, Retry, Fail

Manifesto of Ignorantism

Actionfilm

Towers of Hanoi

Heisenberg

Opto-Hedonism

Every Five Seconds an Inkjet Printer Dies Somewhere

Milk

Mobutobe

Brandmarker

We know apocalypses

452 x 157 cm² global durability

A Good Haul

Blattoptera / Art for Cockroaches

Minus 24x

Gladiator / Short Film

Eden

An attempt to emulate an attempt

Paschal Duct-Taping

Laptop Crochetication

Russka

Somewhere in the 1930s

Soul Sale

The Department for Criticism against Globalisation

Dot Smoke

Georg Paul Thomann

Nurgel Staring

War On

Let's network it out

Nude

Mackerel Fiddlers

Whales

Disney vs. Chrusov / Short film

Bulk Mail

Easter Celebrations

Mouse Over Matter

Condolence for a Crab

Force Sting

Turning Threshold Countries Into Plows

System

A Noise

A. C. A.

Hopping Overland

Achy Breaky Heart Campaign

Hermeneutic Imperative III

Holy Water / Franchise

Roböxotica // Festival for Cocktail-Robotics

Spears

Engine Hood Cookies

Ikea

The Watch

Creative Industry 2003

This World

Cracked Foundation For The Fine Arts

Sometimes I feel

Fit with INRI

Growing Money

Catapulting Wireless Devices

Buried Alive

Illegal Space Race

Magnetism Party

Brick of Coke

1 Baud

Scrota Contra Vota

Direct Intervention Engine

Oh my God, they use a history which repeats itself! (T-Shirt)


---
---
---

.
.
.
.
.